Introducing BlueRailDCC by Tam Valley. This brand new product allows you to control any DCC decoder using the BlueRail Trains iOS app. The board can optionally control a loco (motor/lights) without a decoder (for users not interested in sound). The board is available in a 5-amp and a 2-amp version, and is also available with an internal antenna (75 ft range) or an external antenna (150 ft range).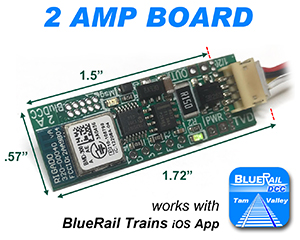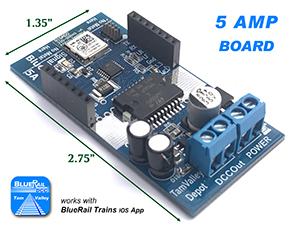 The board lets you enjoy all the benefits/features of DCC decoders (trigger functions and read CVs) without additional equipment or complexity, and can be powered by either track power or battery.
At this time the boards are only available to members of the BlueRail Trains Email List which you can join by clicking THIS LINK.For complete information on the boards, please read the BlueRailDCC Userguide.

Retailers
Check back (retailers will be added here soon)