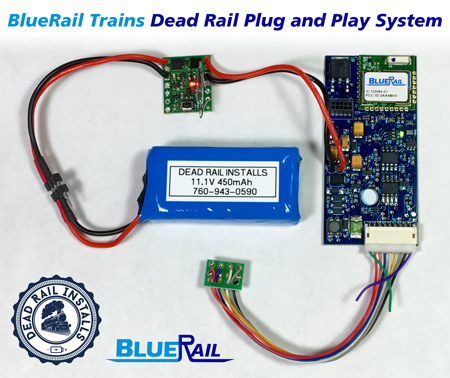 This plug and play system is sold by BlueRail Trains www.bluerailtrains.com
Go to the BlueRail web site. Click on contact. Fill out the page showing your interest. you will get an E Mail from BlueRail with a link to their store. Customers are being taken in order of sign up. This keeps lead times reasonable and allows them to ship orders quickly.
For plug and play, the modeler needs a loco with a socket for an 8 pin NMRA connector. It's easy, just plug the system in.
For those that don't have an 8 pin, the system will require some soldering of wires. All wires are color coded to NMRA standards.
The system includes:
1 BlueRail board
1 450ma 11.1 Volt Protected Lithium Polymer Battery
1 On/off switch with a magnetic reed switch
1 Harness with a 9 Pin JST connector on one end and an 8 Pin NMRA connector on the other end.
Connectors to unplug the battery for charging